small business
Posted on 2/15/12 by Kimber Lanning » 17 Comments
We are surrounded by small businesses in Downtown Phoenix, and we know much of Downtown's success rests on the shoulders of these business owners. As we survey the current economic climate, it is critical to understand the impact a national retailer can have on the health of our local economy. Kimber Lanning, founder and executive director of Local First Arizona, provides insight on the ramifications of the current sales tax impasse between the State of Arizona and Amazon.
Last week at the Arizona State Senate subcommittee hearing Don Isaacson, the lead attorney for Amazon, took the podium to make the case that economies change over time. "We all remember the days of mom and pops," he said, "and then there were the days of the big box retailers…." I surmise this to be a very honest glimpse into the world vision Amazon holds, but what does it mean for Arizona?
For the moment, let's forget the fact that there are over 40,000 independent businesses operating in Arizona today, with a payroll of around 21 billion per year, and let's focus on our state's economy and what would be left of it if Amazon's vision becomes reality.
"For every book store or hardware store that closes, one more accountant loses a job, one more web developer loses a client, one more graphic designer loses a project."
Let's say Amazon is successful in eliminating 20% of the independent businesses in Arizona. Most people understand the immediate job loss and can easily process the thought of, say, 5,000 people losing their jobs because businesses closed. "Amazon is hiring," some people will say, and that's true. So let's be fair and say Amazon will create 1,000 more jobs over the next couple of years, leaving a net job loss of 4,000. But now, let's move on to calculate the secondary jobs that were supported by the 20% of now defunct independent businesses. For every book store or hardware store that closes, one more accountant loses a job, one more web developer loses a client, one more graphic designer loses a project. Soon these supporting businesses will close down, because, well, Amazon isn't hiring them for their services.
Now let's measure the impact on real estate. How could we put a number or real value on the blight caused by over 8,000 closed up businesses littering our state? With no new start ups looking to rent commercial space, how many building owners would be forced into bankruptcy? What exactly would the world look like if we all decided to buy everything from Amazon? Where would we all work and how would we earn enough money to keep shopping on Amazon?
"With no new start ups looking to rent commercial space, how many building owners would be forced into bankruptcy?"
Given this bleak picture of the world, which may or may not come true, it's unfathomable that Amazon has convinced so many people that they should not have to collect sales taxes as every other business has in the history of this country. Sales taxes, or transaction taxes, are collected to pay for services we all enjoy like police and fire protection, libraries, neighborhood services, parks, transportation, and additionally, a small percent of sales taxes are dedicated to education. Anyone interested in improving education in Arizona should be screaming for consistent sales tax collection.
The word TAX has become such a political lightening rod that people are not thinking clearly about which tax we are talking about. This is not a corporate tax that causes companies to have to reach into their profits to pay, nor is this a NEW tax. This is the tax that consumers have always paid on their purchases in order to be able to enjoy the services I outlined above. We could revisit our founding fathers' logic and decide that we all want to opt out of fire protection or any other services provided by the city, county, or state, but it's a safe bet that most people are not ready to fight their own house fires with garden hoses.
"Anyone interested in improving education in Arizona should be screaming for consistent sales tax collection."
Recently the Arizona Department of Revenue handed Amazon a bill for $53 million to cover part of the taxes they failed to collect between 2006 and 2010, and there was some public outcry about this being "unfair" to Amazon. Think of this bill as a simple fine for breaking the law. With four distribution centers located here in Arizona totaling over 4 million square feet of space, Amazon is and has been refusing to collect transaction taxes on sales conducted to the people of Arizona.
Every other retailer operating in this state collects these taxes, whether they are on-line or bricks-and-mortar businesses. Order from Walmart on-line and you will pay AZ transaction taxes. Order from Land's End and you will pay the same taxes because their parent company, Sears, has stores here in Arizona, even though Land's End does not. They are law-abiding companies doing business here and enjoying a comfortable profit.
I have heard many Amazon defenders claiming that forcing their company to collect sales tax flies in the face of free markets. In reality, allowing one company to be exempt from a law requiring all transactions to include a tax for municipal services is absolutely anti-free markets. I don't know a single independent business that wants a government hand-out. In fact, most are happy to compete as long as the playing field is level.
"Amazon is and has been refusing to collect transaction taxes on sales conducted to the people of Arizona. Every other retailer operating in this state collects these taxes, whether they are on-line or bricks-and-mortar businesses."
Amazon will most definitely take Arizona to court over their $53 million bill, not because they feel they have a case, but just to drag the battle on longer. Meanwhile they continue to ignore the tax, which gives them a 9.3% advantage over all other businesses. They may offer the Arizona Department of Revenue a bargain and agree to collect the taxes starting in 2014, which is what they did in California, but in the duration how many other Arizona businesses will be lost?
Arizonan's are currently the 7th LEAST taxed people in the union. If we fail to pay sales taxes our services will decay rapidly. Already it is estimated that Amazon has failed to collect upwards of $750 million in sales taxes, so let's not be surprised when we get our next property tax bill and it's double what we expected. The taxes have to come from somewhere. It's in our best interest to stick to the agreement we have and pay our sales taxes and to require businesses operating here to collect the exact same taxes.
Senate Bill 1338 is currently moving through our legislature and will close Amazon's last loophole by specifically requiring businesses with warehouse space OR retail space to collect the same amount of sales tax. This initiative, which supports the very fundamentals that makes capitalism work in this country, is nothing short of the only solution to save jobs in Arizona.
About the author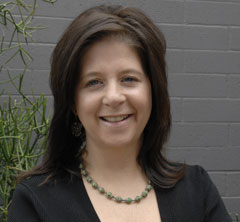 Kimber Lanning is an entrepreneur, economic specialist, and community activist who works to cultivate vibrant, sustainable communities and inspire a higher quality of life throughout Arizona. Lanning is actively involved in fostering cultural diversity, economic self-reliance, regional planning, and responsible growth in the greater Phoenix area. She is the founder and Executive Director of Local First Arizona, a non-profit organization dedicated to raising public awareness of the positive economic and environmental impacts of supporting locally owned businesses.
Posted on 11/13/09 by Yuri Artibise » No Comments
For the past four years, Shaun and Brady Breese have brought smiles to the residents of Central Phoenix with their Urban Cookies bakery. Their secret to success has included a mixture of high-quality ingredients, unique gift packaging and passion for their customers and community. But, perhaps the most important ingredient that they sell is happiness. "Cookies and cupcakes make people feel good," says Shaun.
Shaun and Brady are pretty much Arizona natives; Shaun has been here since she was 3 and Brady since he was 6. They met in grade school, followed each other to high school and then to ASU. After graduating, they worked in various Central Phoenix neighborhoods, Brady working as a life insurance agent and Shaun working in marketing, including a stint at the Greater Phoenix Chamber of Commerce.
In 2005, Shaun and Brady had an idea to start a business. By November, they had secured a deal with the Florence Crittenton Center to use their kitchen facilities in the evening. In exchange for using the Crittenton baking facilities in the evening, the Breeses agreed to train at-risk girls in the kitchen as well as in marketing and customer service. For the first year, they kept their day jobs, working at night. During that time, they only sold their goods online. On weekends, they went out to the community and began giving samples at the historic home tours in Central Phoenix neighborhoods such as Willo and Encanto-Palmcroft. They also began selling their cookies at the Saturday Downtown Phoenix Public Market.
The Breeses found that these samples and local sales encouraged their business to spread virally through word of mouth — still their best way to get new business. In 2006, they opened their first retail store next to Melrose Pharmacy in the Wagon Wheel building just down 7th Avenue from the where they baked their cookies at Florence Crittenton. In 2007, they found they needed a bigger space and wanted their own kitchen, so they moved to their current location on 7th Street near Highland Avenue. Consistent with Shaun and Brady's vision, their storefront is not only hip, but also green, featuring bamboo flooring and low-emission paint. As well, the '50s-era building is a classic example of adaptive reuse. Previous tenants included a café and pizzeria.
Shaun and Brady have always enjoyed living in Central Phoenix, so it was natural to open a business here. There is also financial motivation for being in Central Phoenix. The Urban Cookies "brand" speaks to those living in and around Central Phoenix (their most-trafficked ZIP code for their online business is 85020, in North Central Phoenix). Another draw of Central Phoenix was that retail leases were more affordable near Downtown than in the strip malls further out. While they do not have the benefit of the foot traffic that the strip malls offer, they are able to make up for this through their online sales (another example of the benefits of a diversified business model).
Despite the poor economy, the couple has managed to keep their business growing. A decline in higher-end gift box sales has been offset by increased retail sales. "Even in this economy, $1.99 is an affordable break from the ordinary for people," notes Shaun. This points to the importance of diversity for small businesses, especially in this economy. What started out as a completely online endeavor has morphed into a business model that is now about 50% online and 50% retail through growth and various efforts to weather these tough economic times.
Urban Cookies is always looking for new business ideas and partnerships. It recently began selling cupcakes, affectionately coined "OllieCakes" after Shaun and Brady's 8-month-old son, Oliver. They have also added two layer cakes to their retail selection. During the summer, they offer ice cream cakes to their retail patrons, and have also begun selling organic dog treats. In addition, they are entering the wholesale market, providing cookies to the recently opened Urban Wine Bar and Grocery at the Downtown Phoenix Market. They are also approaching other restaurants and grocery stores around town and offering catering for parties and business meetings.
Currently, Urban Cookies offers four different types of cookies, as well as four types of cupcakes. As well, each month, they feature unique seasonal items. For November they are offering a pumpkin pecan cookie and a cranberry orange cupcake. For Christmas, they are bringing back the popular coco-mint cookie. This holiday season, Urban Cookies is partnering with Danielle Librera and Brian Coonce at the Sweet Pea Bakery to offer pies and tarts to their customers. In addition, they sell a variety of custom gift boxes, small "signature" gifts and individually wrapped favor gifts. These gifts have become popular for business clients, birthday gifts or simple pick-me-ups for somebody who's had a bad day. OllieCakes have quickly become popular for baby and toddler birthdays.
Urban Cookies' notion of Central Phoenix community extends to local businesses as well. Proud members of Local First Arizona, they work together with other nearby independently owned businesses through cross promotions, joint events and business referrals. It is important to have a network, says Shaun, although she notes that this network is being challenged by the economy, and lists of several small businesses that have recently closed, including Lisa G and Palatte. Meanwhile, they are happy to see the growing conglomeration of new independent business near Central and Camelback, including Maizie's Cafe & Bistro, Lola Coffee, Oliver and Annie and Smeeks, among others.

Some examples of how local businesses are working together include publications such as the Small Wonders map, as events such as Local First Arizona's Certified Local Fall Festival at Duck and Decanter, a "Champagne and Shopping" event at nearby Roots Salon, as well as TwitterHunt. During First Friday on December 4, Urban Cookies will be participating in "Sweets Alley" as part of the second annual "Crafeteria" being hosted by Frances Boutique in their parking lot near Central and Camelback.
In their limited free time, the Breeses enjoy spending time with their son at local treasures, such as the Children's Museum of Phoenix, or feeding the ducks at Granada Park. Oliver also enjoys playing on the grass and people watching at the Biltmore Fashion Center. "After hanging out with us all week in the store, he's excited to see other people and places," notes Shaun. When Shaun and Brady are looking for more grown-up fare they like heading to Bomberos Café and Wine Bar, which is within walking distance from their home, or Aiello's, a favorite for Italian food.
You can meet Shaun, Brady and Oliver at the Urban Cookies retail store (602.451.4355), located at 4711 N. 7th St. It is open from 11 a.m. to 6 p.m. Monday through Thursday and 11 a.m. to 7:30 p.m. Friday and Saturday. Online orders can be placed here.