science
Posted on 5/16/13 by Katrina Becker » No Comments
If you're feeling the Thursday mental fatigue that comes near the end of the work week, give your tired synapses a pick-me-up at the world's largest international pre-college science competition, and take a look at cutting-edge student research.
The Intel® International Science and Engineering Fair® (Intel ISEF) is a program of Society for Science & the Public, wrapping up this year's event at the Phoenix Convention Center through Friday. Celebrate the joys of science at Thursday's Public Outreach Day with hands-on interactive exhibits, and meet talented young finalists creating groundbreaking research in chemistry, computer science, engineering, and other disciplines.
Approximately 1,600 high school scientists competed from around the world, coming from 433 affiliate fairs and resulting in over 400 award-winning finalists and 17 "Best of Category" winners in fields including animal and plant sciences, cellular and molecular biology, behavioral and social sciences, medicine and health, bioengineering, and physics and astronomy.
The Special Awards Ceremony takes place Thursday evening, while the Grand Awards Ceremony starts Friday at 9AM. It's intriguing to speculate on the prize-winning topics of research — finalists are competing for more than $4 million in awards.
Last year's first-place winner was 15-year-old Jack Andraka of Maryland, who created a simple dip-stick sensor to test for pancreatic cancer. Astonishingly, Andraka's study resulted in greater than 90% accuracy, and showed his sensor to be 28 times faster, far less expensive, and more than 100 times more sensitive than current tests.
Winners of Young Scientist Awards in 2012 included 17-year-old Canadian Nicholas Schiefer, who studies "microsearch," developing ways to search tweets and Facebook status updates by improving the capabilities of search engines. Another winner, 18-year-old Ari Dyckovsky of Virginia, investigated the science of quantum teleportation, "entangling" atoms to transfer information.
Curious? Learn more about past projects through the abstract search, or stop by the Fair and see for yourself — you might find research exploring new drugs made from spiderweb silk, or discover an internal combustion engine with only four moving parts…or you just might meet the next great scientific mind in a teenager.
If you go:
Posted on 1/15/13 by Jen Urso » No Comments
I have buried my sketchbook under books on polar exploration, a plant-based diet and the concept of space in the age of the internet. When I enter my studio space, I take a moment to stare frighteningly at the scattered, messy desktop buried under unopened mail and a few dirty coffee cups. I am haunted by Facebook posts of artist friend accomplishments and the reflection it has on my inactivity.
This is the frozen desert of being at an artistic standstill.
Like pressing on through a frigid, barren landscape with no clear end to the steady, repetitive horizon: the days of inactivity and unmeasurable creativity continue. For many artists, this is when we start to look at whether it might have been better to study as a Latent Print Examiner or follow a more practical career as an accountant. Maybe some have even fantasized about the seemingly simple life as a heavy machine operator or bus driver. Imagine the satisfaction of completing an honest day of work and settling in to relax in the evening.
This possibility is as remote as a constantly shifting magnetic pole and as unappealing as an unseasoned bowl of polenta. Any artist who has attempted this shift in career due to a temporary lack of inspiration soon finds out that they are floating in a virtual world of non-ideas. It is not the world they are cut out for.
Unfortunately, the artist is beset with the drive to produce and put something in to the world. Although one might be able to sit back and be distracted, distraught and disengaged, the pull to act keeps nagging like hunger. I can't ignore forever that there are thoughts in my head and I am compelled, like an explorer was to the open sea, to find out more about it.
It is time to get out. When in the darkest moments of intellectual despair, sometimes it's better to turn outward. Luckily, Phoenix has answered with a repertoire of activities to foster ideas, import information and maybe most importantly: generate human contact. Tuesday night Lawn Gnome hosts Books and Beakers, a weekly "bringing science to the people" event on the subject of Time Dilation Theory and more remotely local interdisciplinary artist Chris Danowski opens his show Dogface at the ASU West, Artspace West Gallery. Friday I can visit the multi-media installation by Ann Morton at Modified, Jackalope Ranch's Manifesto exhibit at Drive-Thru Gallery and the Valley of the Sunflowers Paper Project at Combine Studios.
With so many options to turn outward, I have no reason to fall further into the crevasse of my own artistic inactivity. Instead, I can revel in the collective ability for others in the community to lift me up through their own action and energy and realize that I will get mine back in time. The desert, even in its cold state, need not be bleak.
Suggested reading: The Race to the White Continent: Voyages to the Antarctic by Alan Gurney; Below the Convergence: Voyages Toward Antarctica, 1699-1839, Alan Gurney; City of Bits: Space, Place, and the Infobahn, William J. Mitchell; Thrive Foods: 200 Plant-Based Recipes for Peak Health, Brendan Brazier
Posted on 7/28/11 by Nicole Underwood » No Comments
I love silly. Silly putty, silly jokes, silly ideas. Silly, wacky goofiness – my cup of tea. I'm pretty much a big kid.
Then there is science and technology. Fascinating subject matter, but I'm not as proficient in articulating the complex theories of quantum physics without causing myself utter embarrassment (versus reiterating a knock-knock joke). So, I stick with silly.
The Blue Bike gang has both areas down to a…well…(ahem) science. And it's insanely fun watch. Plus, they can time travel. Can you time travel? Didn't think so.
The Blue Bike Kid Show consists of the triumphant trio, Boyd Branch, Steve Wilcox and Elizabeth Peterson, who educate children about science and technology through quirky adventures. Think: Bill Nye the Science guy meets a nostalgic theater troupe.
Their creative style attracts audiences beyond their 8-13 range. Imagine being transported to the moon with the Blue Bike Time-O-Poration Photobooth, best described as an antique camera display and a green screen backdrop…at the Phoenix Public Market. (My grandmother was impressed. The moon picture is on her refrigerator.)
This is just a slice of what they do. Their focus is unique: How do we engage with our young generation to connect the world of modern digital technology with problem solving and community involvement? Their solution: Create an interactive kid's show packed with entertaining stories, activities, and exciting adventures to expand the scope of scientific wonder.
Steve Wilcox, one of the trio troupe members, noticed that kids today are surrounded by all this technology, but are interacting with the technological world by means of consumption instead of creativity.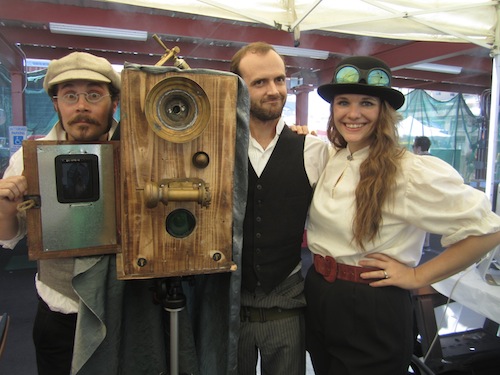 They took the idea to the web and designed a show based on a creative, educational experience for kids. Taking this a step further, the Blue Bike gang also highlights people in our own community on their website, such as scientists and engineers, to showcase experiments and innovative designs, inspiring kids to learn from the best.
I love that part the most. Not only does the Blue Bike gang energetically engage and educate young kids about science; they also partner with other creative scientific minds to enhance the experience and bring their ideas to life.
Best of all, the show can be brought… to you! Community Event? Science Day? The Blue Bike gang will be there, complete with their educational gear and whimsical, captivating performance.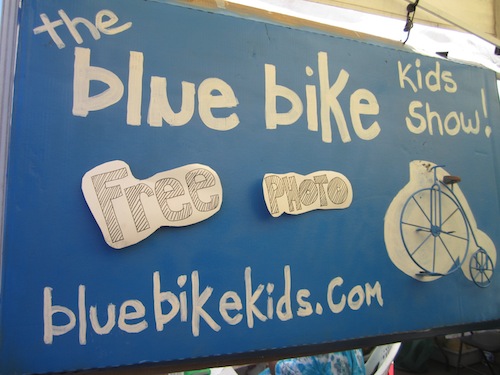 This fun-loving Blue Bike group, who are big kids themselves, are a rare find in the community. They are taking on a not-so-easy feat: change the way children experience the world. I agree, many kids are not challenged enough to take advantage of this amazing technological era we live in. Their definition of technological success is scoring high points on Super Mario Wii. The Blue Bike gang is tackling this problem with innovative strides and reaching the youth in ways that television shows simply can't.
How? By getting kids motivated, allowing them to discover the potential of technology through good, honest, goofy, silly FUN.