Garfield
Posted on 2/24/12 by DPJ Staff » No Comments
Some news items don't need translation. That's why DPJ launched the From the Wire series, so we could serve the destinations here by posting information and announcements – in their own words.

Farmer Woody and Valley Leadership Plan First Planting for Garfield Garden Park 
Farmer Woody, a local farmer and chef, with the help of Valley Leadership, is bringing a community garden to Downtown Phoenix. A first planting ceremony is planned for Thursday, March 8 at 8 a.m.
The garden, called Garfield Garden Park, sits on two formerly blighted lots (14,000 sqft) in the heart of the Garfield District. Richard Melikian, owner of the Hotel San Carlos, has donated the lots.
"This garden has been a dream of mine for many years," said Farmer Woody. "Teaching area residents how to grow their own food improves not only the well being of the individual but of the overall community."
Farmer Woody's mission is to transform the Valley of the Sun into the Valley of Gardens. Valley Leadership is helping Farmer Woody with fundraising and general coordination for the project. The garden will be open to the public by April 2012.
The group is making a call to the community for in-kind donations including trees, fencing, gardening supplies and solar lighting.  A Kickstarter account has been activated for monetary donations.  Local companies including Sprinkler World, Superstition Springs Farms, Shamrock Towing and many others have contributed to the project.
About Garfield Garden Park:
The park will feature a growing garden along with an outdoor amphitheater for community gatherings.  The two will be divided by a food truck drive. The amphitheater has a "kitchen" stage for teaching culinary arts, hosting local potlucks, giving public speeches, acoustical only musical performances and general education. A shipping container on-site will be transformed into a farmers' market stand to buy, sell, and trade produce, as well as a Superstition Farms gardening supply center for the neighborhood.
What:  Garfield Garden Park First Planting
When: Thursday, March 8, 2012
Where: Garfield Garden Park – 929 East Pierce, Phoenix
More info: Facebook, Kickstarter
Posted on 12/12/11 by J. Seth Anderson » No Comments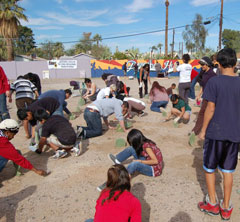 Last summer Desert ArtLAB began a project called LAND Knowledge in an effort to reclaim vacant urban space through activism, art and ecology. This community initiative is dedicated to civic art practice that explores the connections between ecology, culture and community that shape our understanding of our lives in our environment. Mayor Gordon named Desert ArtLAB a "friend of Phoenix" and even declared August 19 as "Community Cacti Planting Day."
On Saturday December 10, over 80 people gathered at Parque Libertad in Garfield on the northwest corner of 9th and Roosevelt Streets to participate in another mass cactus planting. Desert ArtLAB confirmed that Parque Libertad, a collaborative initiative by local artists Breeze, Desert ArtLAB, DOSE, Hood ride, Phoenix Hostel, and Phonetic Spit, would continue to be the location for future projects.
Volunteers plotted out a square space across the solid dirt lot then began to dig holes for the nopales (cactus pads) to be planted. While others were digging, artist DOSE was at work creating the first of many murals to come at this location.
The dirt was packed so tightly that even breaking through it with a pic-axe was no easy feat. Some people dug up red bricks buried 8 inches under the dirt, possibly bricks that were once the foundation of a house. The digging left some people with blisters and brow sweat but this isn't vanity activism, it's hard work.
The cactus pads used to activate this once dead space came from a larger prickly pear cactus in Tempe. Someone had torn out the large cactus and thrown it in a back alley, where Desert ArtLAB found it, hauled it downtown, chopped it up, and replanted it- recycling at its finest.
Desert artLAB created this time-lapse video of the project to document the progress.
Check out their Facebook page for updates about the project and ways to become involved.