Families / Kids
Posted on 6/11/12 by Kate Kunkel » No Comments
Some news items don't need translation. That's why DPJ launched the From the Wire series, so we could serve the destinations here by posting information and announcements – in their own words.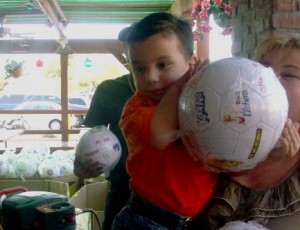 Kick-off the summer with some recreational fun. Pro's Ranch Markets will offer children free soccer balls to encourage them to get out and play! 
Event: Pro's Ranch Markets Phoenix Soccer Ball Give Away
When: Tuesday June 12 from 5 p.m. to 7 p.m.
Where: 1602 E. Roosevelt St. Tuesday June 12th
Phoenix, AZ – Pro's Ranch Markets and the Provenzano family are pleased to support children's sports activities by providing the ingredients for fun to the children in the community.
Beginning last Wednesday, Pro's Ranch Market has been giving away 600 soccer balls to the neighborhood kids at each of their 7 Phoenix area locations.
"Sometimes a friendly soccer game with neighborhood kids is what can bring a community together," said Rick Provenzano, the company's VP of Operations.
Pro's Ranch Market has a variety of community-driven, family-oriented events almost every month," Mike Provenzano, the CEO said of the Pros Ranch Markets community events. "This is how we say thank you for being great customers, neighbors and friends." Mr. Provenzano further added, "We want to thank the community we serve." The events vary and range from Easter Egg Hunts, Back-To-School-Backpack Giveaways, Health-Care Fairs and Christmas Toys Giveaways.
15 Volunteers are also needed to help give out soccer balls, give out food samples and help with the charity work in the community.
Pro's Ranch Markets has stores in Albuquerque, New Mexico, El Paso, Texas, and 7 locations in the Phoenix area. More information is available on Facebook and on the Pro's Ranch Markets website.
Posted on 7/06/09 by Christina O'Haver » No Comments
From exciting music and dance performances to an extravaganza of hands-on activities, artist demonstrations and free souvenirs, Target Free Sizzlin' Summer Saturdays gives kids and families a cool and creative way to spend July Saturdays at the Heard Museum. Even mom, dad, grandpa and grandma can explore the museum and enjoy the activities for free as well, thanks to support from Target.
The Sizzlin' Summer Saturdays will begin on Saturday, July 11 and run through Saturday, August 1. The fun starts at 10:30am and ends at 4pm.
Visitors can experience exciting dance performances and meet artists demonstrating everything from basket weaving to Navajo rug weaving.
Kids can enjoy several hands-on activities in addition to dozens of interactive make-and-take activities in three of the museum's galleries: Every Picture Tells a Story, We Are! Arizona's First People and Home: Native People in the Southwest. Children's book authors will be on site signing books, and The Café at the Heard Museum will offer special kids and family lunches.
Each child will also receive free ice-cream treats thanks to Shamrock Farms, and a take-home souvenir bag filled with activity sheets, crayons, stickers and more.
The Heard Museum is located at 2301 N. Central Ave.
For more information, visit www.heard.org/sizzlin or call 602-252-8848.