District American Kitchen & Wine Bar
Posted on 6/06/12 by Chris Morris » No Comments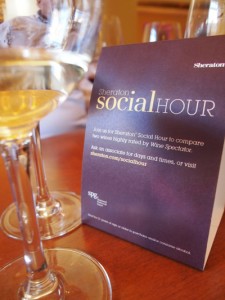 The Sheraton Phoenix Downtown Hotel is amping up its wine program with the launch of two initiatives aimed at visitors and downtown regulars alike.
The new Sheraton Social Hour takes place from 5 to 6 p.m. Monday through Thursday in the Park Lounge Lobby and offers guests a comparative tasting of two wines highly rated by Wine Spectator. For $5 you get two 2-oz. pours of wines of the same varietal (i.e. New Zealand Sauvignon Blanc vs. a Sauvignon Blanc from Washington), and the wines available will change weekly.
Additionally, the Sheraton is introducing its Sheraton Selects menu of premium wines by the glass. All wines in the program have been rated 85 or higher by Wine Spectator with at least four coming in at 90 or greater.
The spacious Park Lounge Lobby features plenty of comfortable seating and the bar along the wall has three televisions tuned to a variety of sporting events. District American Kitchen and Wine Bar offers selections such as Schreiner's Bacon Wrapped Dates, Baked Macaroni and Cheese and their All American Burger in the Lounge, so there's plenty to attract those hoping to stick around Downtown and avoid the rush hour traffic.
If you go
What: Sheraton Phoenix Downtown Hotel's new Sheraton Social Hour
Where: 340 N. 3rd St. (3rd St. & Van Buren)
When: Monday-Thursday, 5 to 6 p.m.
Parking: Free parking in Sheraton self-parking garage off of 3rd St. with District American Kitchen and Wine Bar validation.
Posted on 12/15/11 by DPJ Staff » No Comments
'Tis the season to discover holiday lights and displays at the  Sheraton Phoenix Downtown Hotel. Gather your friends, family, and neighbors to see a winter wonderland of festive decorations and enjoy great food this holiday season. The hotel features a large Christmas tree trimmed with ornaments and lights, and a gingerbread house village creatively decorated and displayed inside the hotel's Park Lounge lobby.  Additionally, the District American Kitchen & Wine Bar will be serving up delicious holiday cuisine.
"It's wonderful to see so many friends and families spending time together as they savor the fine food our chefs cook up and admire the holiday décor," said General Manager Leo Percopo. "Guests will be mesmerized by the large Christmas tree adorned with red and gold ornaments and sparkling lights that serve as the centerpiece of the hotel's Park Lounge. There's even a custom-built train set that meanders through an intricately designed holiday village of gingerbread houses. With faux snow, bridges, tunnels, and a train depot, you're instantly transported to nostalgic childhood memories."
In the spirit of the season, the  District American Kitchen & Wine Bar has passed along a couple of their delicious holiday cocktail recipes. We may not get snow in Phoenix, but we can savor our own kind of White Christmas in cocktail form. Enjoy!
MIX IT: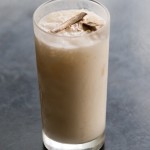 White Christmas cocktail
Ingredients:
•  4 oz eggnog (eggnog can be purchased or homemade)
•  ½ oz white chocolate liqueur
•  1 oz Southern Comfort
•  Edible gold or chocolate flakes for decoration
Preparation:
1.  Mix liquid ingredients together in a shaker.
2.  Pour and serve in a snifter.
3.  Sprinkle top with edible gold or chocolate flakes.
Christmas Dream cocktail
•  1 oz amaretto
•  1 oz heavy cream
•  1 oz vodka
•  Ice
•  Sprinkle of nutmeg
Preparation:
1.  Mix all liquid ingredients with ice in a shaker.
2.  Shake.
3.  Strain into a chilled martini glass.
4.  Add a sprinkle of nutmeg to the top.
Santa's Little Helper Muddled Drink
•  12 cranberries
•  Half a lime, quartered
•  1 small piece of fresh ginger
•  1 tsp. superfine sugar
•  1½ oz gin
•  ¾ oz Cointreau
•  ¾ oz cranberry juice
Preparation:
1.  Place cranberries, limes, fresh ginger, and superfine sugar into a mixing glass and muddle.
2.  Add remaining ingredients, fill with ice, and shake.
3.  Pour contents (including ice) into a tall glass.
Everything Nice Cocktail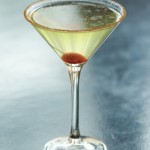 Ingredients:
•  Cinnamon and sugar to rim the glass
•  2 oz spiced vodka
•  2 oz fresh sweetened lime juice (1:1 parts fresh lime juice and simple syrup)
•  Ice
Preparation:
1.  Mix spiced vodka and sweetened lime juice over ice in a shaker.
2.  Shake well.
3.  Pour into a cinnamon and sugar rimmed martini glass.
If You Go
For restaurant reservations, call (602) 817-5400 or visit www.districtrestaurant.com.
Stay the night at Sheraton Phoenix Downtown Hotel with holiday rates starting from $99. To book, visit sheratonphoenixdowntown.com/phoenix-hotel-deals or call (800) 325-3535 and mention rate code HOL11.
Posted on 11/02/11 by DPJ Staff » No Comments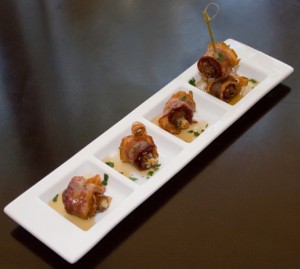 Hey, it's finally getting cool outside!
It's officially autumn and our friends at District American Kitchen & Wine Bar are whipping up creative comfort food from fall's bounty to gladden our hearts. And it's not just produce from their garden or new treats made with Schreiner's Fine Sausage we can look forward to. It's the cocktails, people. The cocktails.
The new fall menu selections debut in early November and will be available throughout the holiday season. Complimentary three-hour parking validation is available with an entrée. So bundle up and make your way over to sample their fall offerings. In the meantime, here is a perfect cool weather drink we are dying to try.
MIX IT: Serve a sinfully scrumptious Snickerdoodle Cocktails at home!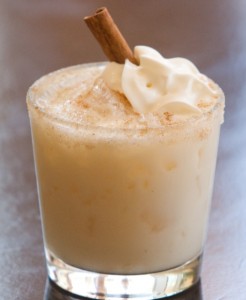 Snickerdoodle Cocktail Ingredients:
1½oz hazelnut rum
½oz Disaronno
1½oz whole milk or heavy cream
Cinnamon and sugar to garnish the rim
Whip cream
Cinnamon sticks
Preparation:
Garnish a glass rim with cinnamon and sugar.
Pour hazelnut rum, Disaronno and whole milk or heavy cream into a shaker.
Shake.
Pour into glass over ice.
Add a dollop of whip cream to the top.
Sprinkle cinnamon atop the dollop and add a cinnamon stick.
IF YOU GO
Where: District American Kitchen & Wine Bar
Address: 320 N. 3rd Street, Phoenix, AZ 85004 (northwest corner of 3rd St. and Van Buren at the Sheraton Phoenix Downtown Hotel)
Who: Chef de Cuisine Jay Bogsinske and the culinary team at District American Kitchen & Wine Bar.
More: District is open daily for breakfast, lunch and dinner. Happy hour is available Monday through Saturday from 3-7 p.m. and reverse happy hour from 10 p.m. to close featuring $5 sangria, $3 draft microbrews, and smaller prices on small plates. Live jazz music or DJs perform every Thursday, Friday and Saturday nights.
Parking: Complimentary valet parking is available for up to three hours with purchase.
For restaurant reservations, call (602) 817-5400 or visit www.districtrestaurant.com