affordable housing
Posted on 4/17/13 by DPJ Staff » 1 Comment
Native American Connections (NAC) could not have picked a better day for their ceremonial "Top Out Celebration."
Urban Living on 2nd Avenue ("UL2″) welcomed its first visitors this morning, which happens to be Bike to Work and School Day. The residential project is located at 650 North 2nd Ave. (southwest corner of 2nd Ave. and McKinley), just a block away from METRO Light Rail.
With this in mind, perhaps the most significant statistic cited during the proceedings was that future UL2 residents will not need a car because of its proximity to light rail, thereby saving residents over ten thousand dollars each year in transportation costs.
So, let's see… A transit-friendly location in a good neighborhood? Check. A "trail blazing" nonprofit as developer? Check. Affordable, quality, rental housing in the heart of downtown Phoenix? Check and…check.
Let's call this a win for downtown Phoenix.
Construction began in September 2012 and is scheduled to complete in December 2013.
Posted on 10/18/11 by Alexandra Flamini » 2 Comments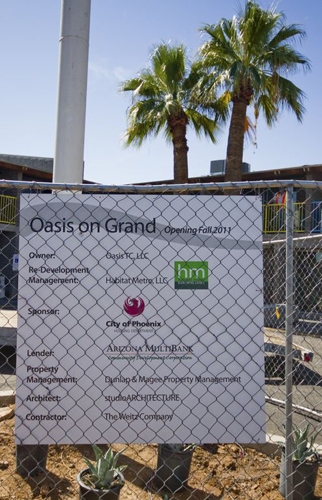 One of Downtown Phoenix's proudest neighborhoods is getting a face-lift thanks to a new housing project on Grand Avenue. The original motor hotel, Oasis on Grand, is being adapted into housing for artists as a way to contribute to the revitalization of the neighborhood.
The 99 room motel is being converted to 60 affordable studio and one-bedroom apartments. The property has been commercially zoned as live/work space for artists, allowing their home to become their studio, gallery and a place where they can sell their work.
The 29 colorful units along Roosevelt have a windowed, street-level gallery. When the unit is open to the public, a front gate on the balcony can be open, inviting people in. These units are set up so their gallery and studio are in the front and the bedroom is in the back. The spaces on the upper level are a bit larger, but without the ground-level accessibility.
Renting a unit in The Oasis will cost an artist anywhere from $400-$700 a month. Preleasing has already begun on the Oasis on Grand website and interest has been high.
Timothy Sprague, a lawyer turned real-estate developer, and his firm Habitat Metro are behind the $5 million project. Habitat Metro developed the high-end Portland Place condominiums. Sprague hopes to include a larger gallery in the building for resident and local artists to display their work. In addition, he envisions a coffee house/bistro and a stage for concerts.
"I'm hoping to have some music associated with it. I think the music scene needs to be a big part of it and the Grand Avenue area has an opportunity to become the music scene like you see in Austin," said Sprague.
The Oasis project is breathing new life into the Grand Avenue area. Not only does it bring Phoenix new First Friday galleries, it brings a new avenue of housing to downtown.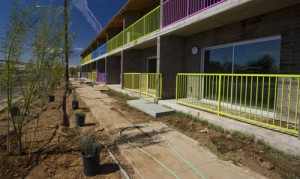 "This project is jump-starting a neighborhood renaissance that will benefit the local community as well as Downtown Phoenix for years to come. Providing 60 units of housing for families earning modest incomes could bring people to this neighborhood who have never been here before," said District 7 Councilman Michael Nowakowski in a press release issued by the City of Phoenix.
Sprague cited many people as being extremely instrumental in this project, including Nowakowski and also Jerome Miller, the Deputy City Manager.
Sprague is no stranger to Downtown Phoenix history, especially in the Grand Avenue area. He is familiar with who owns each of the landmark buildings along with their original uses and future plans.
The Oasis is owned by Tom Carmody and was originally planned to be an affordable condo project.
"Tom has been very instrumental in saving some things downtown here that very few people know about. He owns the little shopping center where Carly's is. You know where Modified is? Kimber Lanning owns that now. When she first opened up the gallery, she was a tenant of Tom's and Tom said 'for you to really get a foothold, you need to own some property,' so Tom sold it to her," Sprague shared.
Carmody bought the Oasis Motel to help clean up the neighborhood.
"The Oasis was a 99 room hotel that was operated as a flop house. It was a den of sin.  Prostitution, drug deals, you name it. It was bad stuff. Tom bought it from a gentleman who was constantly in a battle with the fire department. They would come in and want to shut him down and he would put a band-aid over what ever was wrong to keep them at bay for another 60 days," said Sprague.
Once Carmondy bought the property, he shut it down. According to Sprague, crime decreased by 50% in the area.
After visiting Portland and witnessing the real-estate development before and after the Portland light rail system, Sprague knew that there was real possibility in Phoenix.
"We developed two properties up there [Portland] and sold them, and we came back after the light rail system had been put back into place, wow. Changed completely," said Sprague.
Habitat Metro then began to look at transit-oriented development in Phoenix. Sprague shared that they looked at a few properties on Camelback and Central, but were never able to make the deals work.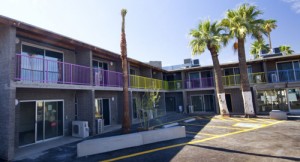 That is when they acquired the Portland Place property from the City of Phoenix and began the three-phase project. What you see now is Phase 1 and according to Sprague, it was very successful. Condos in the complex sold for $400/sq. foot.
"But what we realized is that for downtown to be vibrant and to work, you've got to have a full spectrum of residential properties within the market. Not everyone can afford to buy an expensive condo. So that's one of the things that really attracted us to the Grand Avenue market," Sprague said.
Sprague believes that in order to maintain an urban environment, there has to be residential diversity in the area. He didn't see that in Portland Place.
"The only common denominator is that they don't have children. It's older, empty-nesters to single divorcees to partners to dual-income couples with no kids. The people who really want that urban scene. And to have that scene, you've got to have art and texture," Sprague said.
That's why he and Habitat Metro are creating Oasis on Grand. Visitors can tour the location during the 3rd annual Grand Avenue Festival on Saturday, October 22, from 3 p.m. to 11 p.m.
Posted on 9/23/09 by Yuri Artibise » 8 Comments
Christoph Kaiser is helping to rebuild Garfield one house at a time. Once an epicenter of gang activity and urban blight in Downtown Phoenix, Kaiser's houses are now at the heart of Garfield's resurgence, and among the coolest in Downtown Phoenix.
Kaiser is part owner of the architectural firm Plus Minus Studio, founded by him and his business partner Hayes McNeil in the fall of 2005. Since its founding, they have added Anson Chen to their team as Project Manager. The studio has been responsible for some of the most striking projects in and around Phoenix, including transforming Katz's Deli into Postino Central and the complete remodel of Kitchen Sink Studios in Downtown Phoenix. In addition, Christoph has recently joined Hayes as partner in the new Royal at the Market coffee shop at the soon-to-be-opened Phoenix Public Market Urban Grocery and Wine Bar.
While this portfolio is indeed impressive for a young architect, it is his personal projects in the Garfield neighborhood that captured the attention of DPJ. Garfield is the oldest historical district in Phoenix. First established in 1883, it became part of the city of Phoenix in 1899. Houses in the neighborhood date from the 1890s to the 1940s, with a large percentage built in the early 1900s. Unlike the grand dames of Phoenix's historic districts, Willo and Encanto-Palmcroft, which have mostly remained intact and have dramatically appreciated in value, the historical homes in Garfield fell on hard times over the past three decades.
Kaiser purchased and remodeled his first house in Tempe while still a student at ASU. After graduating, he set his sights on Downtown Phoenix because of the dynamic changes occurring Downtown and the availability of affordable historic homes. "Historic homes put me at peace," Kaiser says. He also notes that older homes encourage commitment, something that is lacking in many of the interchangeable stucco boxes that popped up in the suburbs during the real estate boom.
The Garfield neighborhood has changed a lot since 2005, when he first moved in — there was still gang activity on his street back then. At that time, Kaiser felt like he was the only one trying. Rather than be deterred, however, he saw this as an opportunity. Not only were the prices right for an architect with shallow pockets but deep vision, but also the dire shape of the area provided opportunities for creativity that would not have been available in other neighborhoods. He has seen a dramatic change over the past four years, brought about, in part, by a shift from renters to owners who are renovating their homes as well. In addition, the remaining landlords are paying more attention to the upkeep of their properties in hopes of attracting new tenants from ASU and the Biomedical campus.
Kaiser's desire is to create interesting living spaces for the working class and students. They are a unique alternative to the condo towers and apartment blocks that we normally think of as "urban living." His approach to design and architecture is akin to an unfolding progression. When you first approach his homes, they look largely like they did when they were first built, as he has done his best to respect the exterior's authenticity. One of the only differences is the desert-friendly landscaping. Once you step inside — or around back — however, you enter a realm of the unexpected.
Kaiser takes the concept of place-making to a micro level. While the term traditionally refers to creating neighborhoods, he creates places as small as a garden patio. To create such a place, Kaiser pays particular attention to creating a sense of arrival, where it feels like you are entering your own world, despite being just steps away from the bustle of Downtown. As a result, he is as interested in the outside of his houses as he is with the interiors. He has spent a lot of time researching indigenous desert plants and has planted many varieties of mesquite. He is now experimenting with interspersing fruit trees between the desert trees, because, he states with a wink, "After all the work I put into planting, watering and otherwise maintaining my yard, it would be nice to get something back."
On the inside, Kaiser tries to fit as many unique living spaces as possible. He has created units in once-empty attics and created communal living spaces on the main level for people renting out bedrooms. Christoph fills each place with whimsical touches, including an intriguing mix of vintage finds and high-tech conveniences. While there are plenty of IKEA products throughout his unit, due to their affordable-yet-stylish forms, he also has several higher-end pieces that were custom made to maximize the use of space. In addition, he is in the process of building unique living spaces in his back yards, including a renovated 1967 Airstream trailer and a corrugated metal silo that he is constructing as a self-contained living space. He notes that the four to five people living in each of his houses, while dense by today's standards, was the norm when the houses were first built. The only difference is that they were families living together back then, while there are friends living together today. This added density allows for more affordable rents, attracting a mix of students, artists and creative young professionals.
A good way to describe this combination that Kaiser has developed is to use a phrase coined by Alison King of Modern Phoenix: "Mullet Modern — conservative in the front, party in the back." According to Kaiser, "Neighborhoods need some interest, with some more aggressive or edgy touches to attract diverse types of people, yet still being respectful of the neighborhood's authenticity." He admits that many of his ideas wouldn't fly in a more established historic neighborhood, but in a recovering neighborhood like Garfield, they are a perfect fit.
Kaiser's Garfield homes are located at 732/734, 910 and 915 E. Pierce St. Please contact him directly at kaiserbox@gmail.com or (602) 697.1205 for more information.
All photos courtesy of Christoph Kaiser