South Phoenix
Posted on 11/29/12 by Katrina Becker » No Comments
Far more than a friendly group of birdwatchers, Audubon Arizona offers a surprising range of outings for all ages from its little-known home on Central Avenue near the Salt River.
The opening of Audubon Arizona's Nina Mason Pulliam Rio Salado Center in October 2009 was the culmination of seven years of fundraising efforts, says Valerie Ramos, the organization's development and marketing associate. "A lot of people still say, 'I never knew this was here,'" she explains, so a primary goal is greater awareness of the Center's existence.
Part of the 600-acre City of Phoenix Rio Salado Habitat Restoration Area, which stretches over a five-mile former industrial dump site, the Audubon Center welcomes visitors to a riparian region of astonishing natural wealth. More than 200 species of birds have been spotted, along with beaver, muskrat, coyote, jackrabbit, and javelina.
"It used to be a flowing river, and over time it became a landfill," explains Ramos. "Then the federal government and the city were able to build a flood control channel…they restored the area by planting 70,000 plants and trees."
The Center itself is certified Platinum LEED, which means that the United States Green Building Council considers it a high-performance, sustainable green building. Rooftop solar panels, wastewater reclamation, and recycled building materials all contribute to the rating.
Offering free admission year-round, the Center not only maintains interactive exhibits and acts as a gateway to 16 miles of trails through the Habitat, but also provides classes. "Our mission, in a nutshell, is to connect people with nature," Ramos says, "primarily through children's education programs. A lot of the kids who come for one-time field trips come back with their families and stay engaged with Audubon."
Multiple after-school sessions like River Keepers and the high school program called River Pathways, in which teens collect field data for the Bureau of Land Management, encourage kids to think of the Habitat as their own beloved resource.
Ramos smiles enthusiastically. "We really are building a community of stewards, developing a love of nature — we're getting them when they're young. How can we expect people to care about the environment," she asks, "unless we expose them to these experiences when they're at an impressionable age?"
Adults have been finding their way to the Center through events like Birds and Beer, a monthly Thursday evening program. "We sell Four Peaks beer," says Ramos, "and we recruit a wildlife biologist to give a punchy, enlightening, entertaining talk that usually involves some aspect of mating and wildlife reproduction."
She laughs. "So you can see how that program would draw the professional audience — we're just two miles south of downtown Phoenix." It's sort of a naturalist's happy hour, a wilderness getaway in the heart of the city.
Financial support for the Center continues through innovative fundraising events like this weekend's Gifts from Nature, an annual art sale and festival. "It's an opportunity for Audubon Arizona to engage art lovers," says Ramos. "With every item that's purchased, a portion of the proceeds benefits our nature education and conservation programs."
30 artists offer jewelry, wearable art, home décor, photography, paintings, ceramics, and garden pieces, all chosen through a juried process – if you're an artist interested in participating, contact the Center next July.
The $25 ticketed kick-off event Friday night gives guests a preview of the exhibits and an artist meet-and-greet plus wine and hors d'oeuvres. Admission on Saturday and Sunday is free, and this year's event features food trucks like Luncha Libre, Pizza People, and Burgers Amore as well as live music performed by students from Arizona School for the Arts, acoustic guitarists, and Ensemble Indigo (full disclosure: I'm a member of this chamber group).
Kristel Nielsen is one of the show's newest artists, bringing a connection to nature through ceramic bells and wind chimes. "I want my work to look as though it belongs in the natural world," she says. "I enjoy making forms that are organic and have a splash of color."
Nielsen continues, "My style is slightly 'Arizona primitive,' very folkloric…some bells look archeological, as though they came from a temple ruin." Along with outdoor art, she creates plates, jewelry, and holiday ornaments, including terra-cotta angels.
"I use a one-step firing process," she explains. "It's an environmental practice to not use that much energy, to not have to fire twice on one object." Nielsen developed her technique when Taliesin West opened its clay studio for employees to use after work, and began selling her creations at the Desert Botanical Garden and Southwest Gardener.
The show's artists, including Allison Shock, Caren Gomez, and Nathaniel Smalley, are all local. "The bottom line is that you're contributing to a non-profit whose mission is to connect people with nature and provide opportunities for inner-city kids," says Audubon's Valerie Ramos emphatically. "Every dime spent at the event contributes toward our programs."
If you go
Event: Gifts from Nature
When: December 1 & 2
Where: The Nina Mason Pulliam Rio Salado Audubon Center, 3131 S. Central Avenue, Phoenix, 85040
Artists participating in Gifts from Nature: Joan Baron — Jacqueline Benard — Cynthia Eral — Dos Damas Designs — Julius Forzano — Lynn & Mark Gardner — Caren Gomez — Wendy Goodma — Nora Graf — Pam Harrison — Sue Laub — Mary Lavan — Michael LiPira — Regina Lord — Brenda Lovejoy — Devon Meyer — Daniel Moore — Kristel Nielsen — Barbara Pohan — Arlene Powers — Rebecca Rush Profeta — Walter Salas-Humara — Christina Scherer — Amanda Scheutzow — Allison Shock — Nathaniel Smalley — En Chuen Soo — Vivian Stearns-Kohler — Genie Swanstrom
All photos courtesy of artists and/or Audubon Arizona.
Posted on 10/11/12 by DPJ Staff » No Comments
Community members representing Downtown Phoenix and beyond (including DPJ) have been working on a plan to make Central Avenue sparkle and shine during the upcoming holiday season.
It's a big idea worthy of this great city – and it's going to take a community-wide effort to make it happen.
Think of it: up to 10 miles of our city's grand boulevard festooned with decorations!
A Holiday Decoration Fund has been established, with donations needed by October 25 to get the decorations up by Thanksgiving.
There are hundreds of light poles that can be decorated, so the more donations the more festive Central Avenue will be!
Read the following invitation to participate and let's all come together and contribute to the spirit of Phoenix and the holiday season.
Dear Phoenix Community:
Please help us bring the spirit of the Holiday Season back to Central Avenue from Camelback to Dobbins!
Last year was the first year since light rail construction began that our Central Avenue street lights had holiday decorations. By the end of the Holiday Season (Thanksgiving – MLK Holiday) the decorations had deteriorated and are no longer usable.
A number of property owners and managers of buildings along the Central corridor are eager to help bring decorations back to the street.
We hope you will be too!
The cost to purchase or refurbish – and install, store, maintain, and remove the decorations, as well as purchase new hardware to support them – is excessive.
The most affordable option for the short and long term is to lease new decorations. Many communities across the country are tending toward this direction.
We have worked with all the vendors involved and have arrived at a reduced rate of $210 per street light. This includes everything: the decoration and banner (examples pictured right), installation, removal, the purchase of new hardware required to support it all and tax.

The City of Phoenix and Valley Metro Rail are assisting us and support this effort. Also, some property owners want to help decorate streets and areas along and adjacent to the light rail.
We do not have much time. Please join us!
The Phoenix Community Alliance (PCA) has agreed to be the facilitator for the Phoenix Holiday Decoration fund.
Payments must be processed by October 25.
Download the contribution form from PhoenixCommunityAlliance.com.
Then use your credit card to donate online.

Or make checks payable and mail to:
Phoenix Community Alliance
234 North Central Avenue
Suite M-1100, Floor 1A
Phoenix AZ 85004
(ANY level of contribution is appreciated! PCA is a 501 (c)3 organization and your contributions are tax deductible.)
Please do not hesitate to contact PCA at 602-254-7477 ext. 22 with any questions you may have.
Thank you! And here's to a Happy Holiday season!
JOSEPH BENESH, Director, Phoenix Center for the Arts
KENNY BARRETT & CINDY DACH, Roosevelt Row
DAN CARROLL, Chairman, Midtown Museum District
CATRINA KAHLER, Publisher, Downtown Phoenix Journal
DON KEUTH, President, Phoenix Community Alliance
EVA OLIVAS, President, Phoenix Revitalization Corporation
DAVE RODERIQUE, President  & CEO, Downtown Phoenix Partnership
VICTOR VIDALES, Business Owner, REMAX, South Mountain Real Estate
GEORGE YOUNG, South Mountain Village Resident
Posted on 6/13/11 by DPJ Staff » 3 Comments
Join us for a live, streamed broadcast of the Mayoral Candidate Forum for a Greater Downtown Phoenix on Monday, June 13 from the ASU College of Nursing & Health Innovation. We'll be front and center at the event, and you'll be able to look right over our shoulders from the comfort of your desk chair.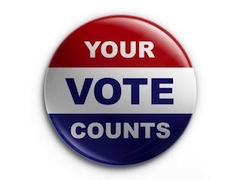 To make this work, we need you to download Silverlight. It's a programming language used by Microsoft that's often used to get high quality video feeds to homes that may not have the fastest broadband connection available. MLB.TV uses it, and Tyler, our editor, tells us that he loves it, and because he complains about everything, we'll take that as a vote of confidence (ed note- it does work).
Download Silverlight, then come back there at 5:00 p.m. and we'll be ready. We may turn the feed on early if there's something worth watching. If we know, we'll be sure to update you. Follow all the action on Twitter, hashtag #phxforum